I met Xena a little over a year ago when she moved into The Dancing Cat in downtown San Jose, CA. I dropped in to take a few pictures of some of their new cats for their adoption profiles. Xena quickly introduced herself. Without any fear, she investigated my camera and gracefully leapt around the room. When I found out about her story, I couldn't believe what she had been through. She was 3 years old and was brought into a vet by her previous family to be euthanized for having a skin condition that had been neglected. Upon discovering that she had a very treatable condition, cat scabies, she was rescued, treated, and after a month of shedding and recovering, she was placed into the care of the wonderful people at The Dancing Cat.
This little cat, so friendly, vibrant, and full of life, had just been through such an awful struggle. She was renamed Xena, a fitting name for this small warrior princess. The sweet girl that greeted me that day was ready to find her new match. Almost as soon as she arrived at The Dancing Cat, she did. Tom, her cat dad, met and bonded with her, ultimately taking the leap to adopt his first cat and offer her a forever home. I was so happy when Tom asked me to take her new portraits.
With Xena's adoptiversary just around the corner, I arrived at her home in San Francisco, CA to catch up with her. I was impressed with Xena's fully grown coat and the scenic view from her favorite window ledge. I even got to see her enjoy a meal of her fancy raw food diet.
Here is a glimpse into Xena's life with her cat dad, Tom:
Xena stands guard and watches passerby's on the sidewalk.
She zips and leaps through the halls, making sure she's in peak physical condition so that she'll be ready to catch birds and mice in case the opportunity presents itself someday.
"It's important to practice your technique, like so."
After all that training, Xena relaxes with a belly scratch from her cat dad, Tom. (This is TRUST, my friends. If a kitty lets you touch their tummy and doesn't destroy you, you are one lucky human!)
Even while resting, these paws still have claws, so watch yourself, little birds! Xena is ready to hunt.
No mouse is safe from Xena, the warrior princess cat.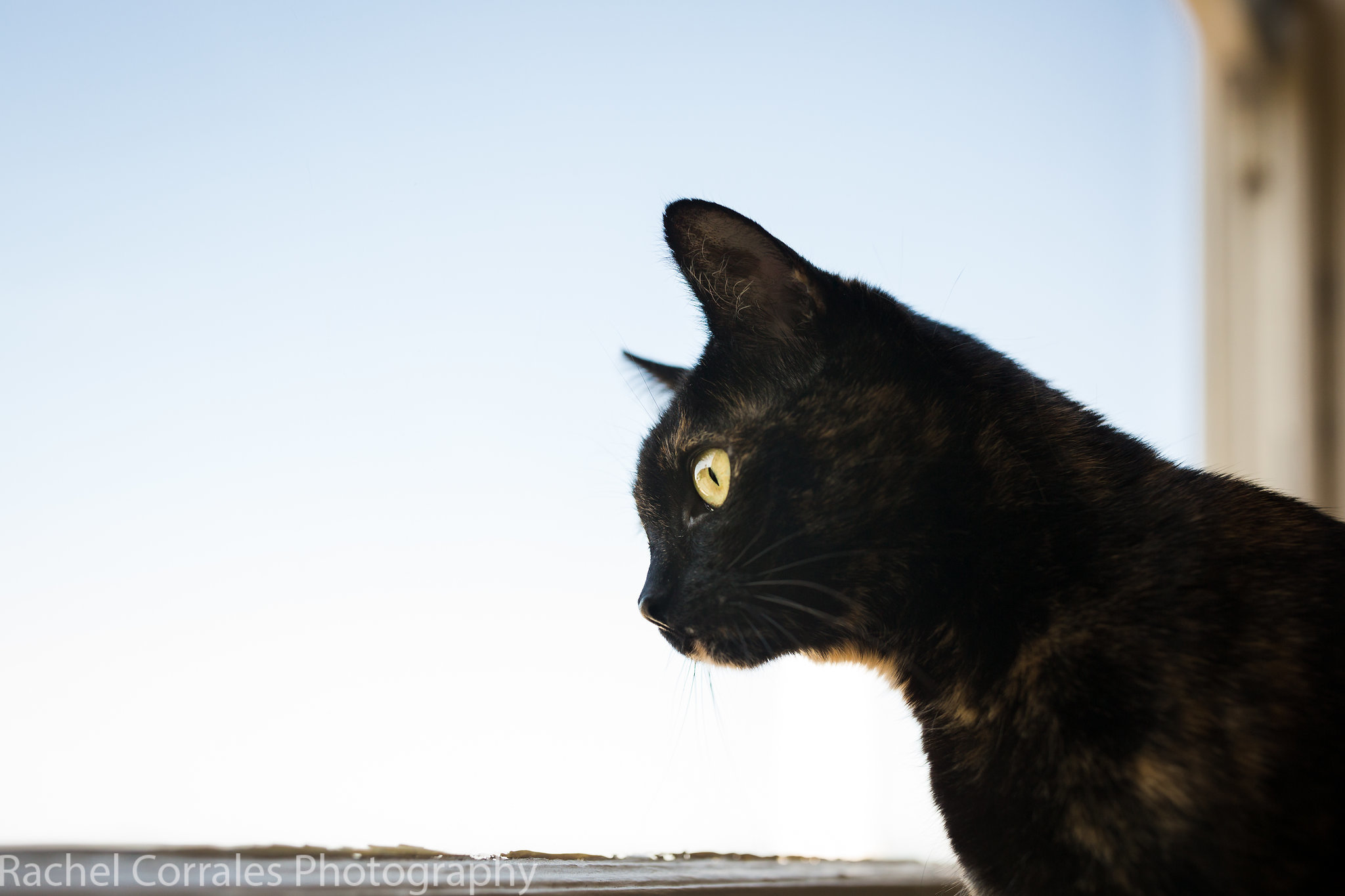 After a short cat nap and stretch, she's back on the lookout.
Xena debates about whether or not she's tired.
Xena winds down after a serious play session running up and down the stairs.
She always makes time for cuddles with her cat dad.
After a taxing afternoon of giving me a tour of her home, modeling, and chasing toy mice, Xena is done for the day and ready for sleep!
Thank you Xena and Tom for welcoming me into your home. It makes my heart so happy to know that this little cat is so loved. I'm so glad you found each other!
My next post is going to be all about how to get the most out of your photo shoots with pets, so make sure you check back for more tips and fun pictures of cats, dogs, and even horses!